Is this the end for movie theaters?
Movie theater chains are on the brink of financial ruin because of COVID-19.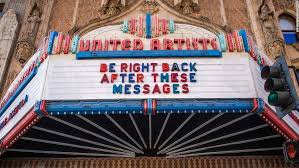 Since March of 2020, movie theaters across the country and world have been forced to shut down because of the Coronavirus. These closures have left thousands of employees without work and no income to survive with during these very tough times. Here in Stockton, the Regal theater chain was planning on re-opening it's locations in downtown Stockton and on West Lane, but the recent uptick in Coronavirus cases has caused Regal to postpone those re-openings. The movie theater in Lodi, which is owned by Santa Rosa Cinemas, did in fact open with Coronavirus safety guidelines in place for a few weeks in October/November, but it also had to close again because of the recent surge in Coronavirus cases as well. California Governor Gavin Newsom's new stay at home order prevents any type of closed indoor business from operating. These movie theater closures have caused people to go to other sources to find movie entertainment. Welcome to the revival of the drive-in-theater. The major movie studios in Hollywood are in a dire financial need to start making a profit on the movies that they have already invested in and produced. This is where we just saw Warner Brothers make the jump into the small screen market. WW84 (Wonder Woman 1984) starring Gal Gadot debuted on Christmas Day on HBO Max and simultaneously in theaters in the United States and Canada. Disney+ also celebrated Christmas by debuting Pixar's Soul. Be prepared for these online services to charge an additional fee of $25-$30 dollars to stream these new movie titles inside your home.
The closure of movie theaters has left movie going audiences to turn to alternatives for entertainment like the Drive-in theater. The nearest major Drive-in theater is the West Wind Drive-in up in Sacramento. Even though this Drive-in has multiple screens, it has been a very hard place to get a ticket. The renewed interest in Drive-in theaters has led to an old Drive-in theater in Modesto to be refurbished and re-open back up to the public. The Ceres Cruise-in is a one screen drive-in in Modesto that has recently reopened to grab some of the pandemic entertainment business. The theater only plays one movie a night and right now they are  showing WW84 as well.
It's not just the movie theaters that are screaming to make money. When taking a closer look, it's the major Hollywood Studios (Universal, Warner Bros., Paramount and Disney) that need to recoup their money as well. This has led the studios to start releasing their movies outside of traditional movie theaters to streaming services like HBO Max. The gamble of the year is coming from Warner Bros. Their entire slate of brand new 2021 films will be making duplicate debuts on the large and small screen simultaneously. New films like Dune, The Suicide Squad, Matrix 4 and Space Jam: A New Legacy will stream inside homes at the same time they are being released to theaters. Is this the wave of the future? We begin to vote on December 25th with our wallets. Stay tuned.