Volleyball coach, players reflect on a successful season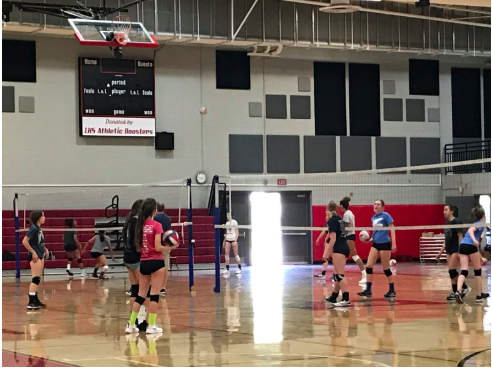 Hang on for a minute...we're trying to find some more stories you might like.
In a short amount of time, the fall sports will be taking a backseat while the winter sports take the wheel. One of those sports coming to an end is volleyball, and it has not received as much appreciation as it should have.
Anthony Hall, the head coach for the junior varsity volleyball team, says that "we have a lot of games where there is only a handful of students and mostly parents who show up". Despite how energetic and fun the 3 hours of intense competing goes on between the freshmen team, JV team, and varsity team, the turn out is only a few friends and family. Come on, Lincoln! We can do better than that.
Hall really enjoys coaching these young girls through their competitions and practices. He says it is his passion and that he loves coaching, "I love watching kids do something they haven't done before and learn and progress, and achieve their goals".
Chloe Dent, a freshman player, had joined the team a tad late, saying she "missed tryouts, and over the summer before school started [she] came to the coaches and asked if [she] could tryout during one of the practices, and they let [her]" on the team. Dent has been playing volleyball most of her life, thanks to her older sisters, who both played in high school. Dent eventually would like to play volleyball for a college or university team.
Alexis Boccia, a freshman varsity player, recently got into volleyball. Her mother was her inspiration for joining the team. Boccia's mother had really wanted her to join the team, so she tried out and managed to land herself on the varsity team.
Volleyball is an intense sport that requires "a lot of teamwork, [and] a lot of communication" said Hall. These girls train together to prepare themselves to be the best, they even almost beat our rival team, St. Mary's. The last two games are on Monday and Wednesday, more information can be heard over the intercom during fourth period. These girls deserve the recognition. 
About the Contributor
Alana Luman, Staff writer
Alana Luman is a staff writer for The Lincolnian. This is Alana's first year in the journalism program. As of now, Alana serves as a staff writer. When...