Artist finds inspiration from variety of sources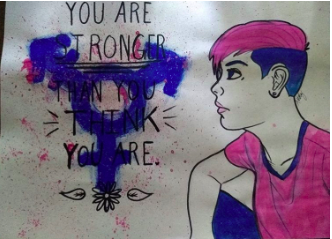 Art comes in very many forms like music, dance, painting, and many more. Andy Benner participates in two forms of art, both music and drawing. Andy is a self taught artist who draws for the practice and overall enjoyment.
When Benner draws or sketches, they use whatever they can get their hands on to draw. Often times using "a little bit of everything, or at least [they] try to". Though when doing larger projects, they stick to acrylics, watercolor, or markers. Using a variety is imaginative, you can do more things and possibly come up with more prompts.
Andy has done many projects based on lyrics from songs, or poems, because they are "a huge music dork." Andy also is a part of the Lincoln High Orchestra, so it makes sense for them to be so passionate about music and their lyrical meanings. Some songs may have more than others.
They do not only just base their art on music, but they also base them on the many wonders that go on throughout their life. Such as "relationship things or family dynamics," Benner said. Art is a great way to vent your ideas or life, as shown through many great pieces by famous artists.
Benner keeps drawing because even if they are struck with the tiniest amount of creativity they are "still getting it down onto the paper." No matter the idea or concept. This is great motivation because school does not really push kids to be creative in these ways anymore, unless it is graded.
Sometimes, Benner finds it hard to just draw and will go "maybe months without picking up a pencil." Artists sometimes hit this wall called artist's block where they do not have inspiration or motivation to draw or create art. Surprisingly, this happens quite often, even in the most creative people.
Art is a way of self expression of human creative skill and imagination. Whether it be drawing, dancing, music, or writing, it shall continue to prosper.
About the Contributor
Alana Luman, Staff writer
Alana Luman is a staff writer for The Lincolnian. This is Alana's first year in the journalism program. As of now, Alana serves as a staff writer. When...