Depression Linked to Distance Learning
As teenagers patiently wait for schools to reopen, their collective mental health worsens under the stress.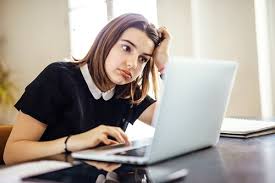 January 1st ushered in a brand new year and the panic currently surrounding COVID-19 only seems to be getting worse. Our school district made the protective choice in August to conduct classes virtually for the safety of students, but the mental health of students has worsened as the pandemic rages on for its 10th month and counting. Numerous students have difficulty paying attention to their laptop screens, and the workload given to students is appearing to make matters worse for the mental health of Trojan students. Staring at a screen for almost an entire day, takes a toll on the overall mental capacity of students. Many students have recorded symptoms of experiencing anxiety and depression, as each month of the global pandemic continues. An article published by Ed Source states, "There is an increase in the number of students that say they feel overwhelmed and it's not just about the health of their family and friends. Worries have arisen about parents keeping jobs, grades slipping and friends that might be trapped in at home with an abusive family member." Not being able to have physical comfort can dramatically affect an individual's mental health. Many students rely on school to escape their abusive home environment and distance learning is increasing the depression and stress rates. Distance learning also makes it difficult to establish a trusting friendship with a teacher, counselor or school psychologist because students, with siblings in the house, experience limited privacy. According to Ed Source, "The lack of privacy has been one of the biggest barriers to students receiving help. Students living in tight quarters with their family can't confide in a counselor without someone overhearing." In addition, the pressure of turning in work on time only adds to the home environment stress. It is for these reasons that depression rates have increased during distance learning.
We are now entering our third semester of attending virtual classrooms. The pandemic has eliminated the majority of social gatherings for birthdays and holiday celebrations. According to an article published by Inside Higher Education, "Students are still struggling to find quiet spaces in their home to work, deal with financial and health crisis's, and homeschooling their siblings. Furthermore, students in courses that require labs are worried about achieving all of the objectives that the course requires." The outcome of this type of everyday stress can lead to depression, a lack of motivation, and the inability to focus. A high school students mental wellness seems to worsen when the amount of screen time increases. Inside Higher Education states, "Students talk a lot about really missing in-person instruction with their classmates because they enjoy the direct interaction with their faculty members, and having those spontaneous, organic conversations." The in-person classroom learning experience helps students stay motivated. Virtual learning makes it easier to be distracted. The monotonous drill of daily virtual lessons only adds to the stress and depression of an already overwhelmed high school student.
The mental health of high school students, as they maintain working to further their education despite no in-person contact, has had harsh consequences on overall mental wellness. According to an article published by The New York Times, "Research shows that adolescents depend on their friendships to maintain a sense of self-worth and to manage normal anxiety and depression levels. A recent study of 3,500 high school students found that nearly one-third (1,166) reported feeling unhappy or depressed in recent months." Furthermore, the inability to engage in social events has stagnated the positive mental health of teens. The New York Times also stated, "The percentage of teenage emergency room visits related to mental health issues has doubled during the pandemic. There is serious concern about the psychological effects that lockdowns and social distancing have had on our youth." This does not include the stress collected from trying not to contract the COVID-19 virus. COVID isolation has made many high school teens unable to relax or feel comfortable which can lead directly to sleep deprivation.
Lastly, students, who have siblings, often have to manage their time in order to help their siblings during virtual learning as well. Parents are hard at work and the teenager is being asked to be the parent, tutor, and babysitter during distance learning. This task adds another layer of stress to the teenager and the Monday thru Friday cycle can be downright overwhelming. A lack of motivation to do anything else besides school can send students into an emotionally exhausted state. As depression sets in, it alters the way teenagers perform academically which results in the deflation of grades. As teachers continually push through academic units, there is the constant nagging conscience letting students know that their work is still not complete. These are the challenges and ramifications of the distance learning world. A world that we knew nothing about prior to the pandemics arrival in March of 2020.