The One Year Anniversary of COVID-19
In celebrating COVID-19 and the ensuing quarantine's 1st birthday, what have we learned?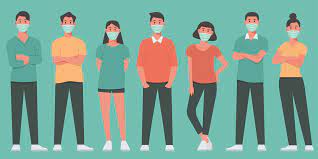 It was almost exactly a year ago (March 25, 2020) that former President Donald Trump declared COVID-19 a National Emergency. As we quickly approach the one year anniversary of exiting campus (Friday, March 13, 2020) that expanded into 12 months of isolation and 500,000 deaths, I know I don't need to say it, but this has been a terribly disappointing reality to live in. With our county currently still living inside the purple tier (San Joaquin hit the red tier on March 9th), there is a great chance that we will be seeing another LHS high school class graduating virtually. 
Luckily, the Moderna, Pfizer and Johnson & Johnson vaccines have arrived in California and they are slowly being circulated throughout the state. At the writing of this article, there have been roughly seven million Californians out of a total of 39 million to receive the vaccine thus far. California has received 8.8 million doses of vaccine from the CDC and 79% of the vaccine has been used. We should soon start to see a decline of active cases, as long as we sustain our masking and social distancing protocols. Beating COVID-19 can be done, because in June of 2020, New Zealand was proud to declare its nation COVID-free. The Prime Minister, Jacinda Ardern, happily announced that there have been, "no new COVID-19 cases for more than two weeks." New Zealand was able to lift the majority of restrictions and regulations. The one main remaining regulation was opening the borders to foreigners. The issue here is to try and keep New Zealand's citizens free from new outbreaks. Countries, such as the United States, India, and Brazil seem to take on the 'germ infested toddler' role in the world. By acting fast and suppressing the virus, (implementing many various social distancing models), New Zealand was able to loosen its restrictions fairly quickly.
On June 18, 2020, California governor Gavin Newsom mandated the wearing of masks in public. COVID-19 spreads mainly from person to person through respiratory droplets. Respiratory droplets travel into the air when you cough, sneeze, talk, shout, or sing. These droplets can then land in the mouths or noses of people who are near you or they may breathe these droplets in. Masks are a simple barrier to help prevent your respiratory droplets from reaching others. Numerous studies have shown that masks can reduce the spray of droplets when worn over the nose and mouth. Masks should be worn even if you do not feel sick. This is because people with COVID-19 who never develop symptoms (asymptomatic) and those who are not yet showing symptoms (pre-symptomatic) can still spread the virus to other people. Wearing a mask helps protect those around you, just in case you are infected but not showing any symptoms.
Sadly, there are still many individuals who believe the virus is a hoax or believe that the mask mandate goes against their rights. The range of how effective mask wearing ranges from a low of 26.5% to a shockingly high 79%, says Lionel Bonaventure with Medical News Today. Masks are not a 100% guarantee, but when paired with social distancing, hand washing and sanitizing, your chances of contracting COVID decrease greatly. Dr. Fauci even started suggesting on January 26, 2021 that wearing two masks can be very beneficial when out in high traffic areas. Unfortunately, large groups of people still struggle with these preventative measures and we are not seeing the results most of us want to achieve. This is why we are experiencing a prolonged lockdown. Even our local businesses seem to struggle with keeping their six feet apart floor indicators the true six feet apart. Hopefully, when the time comes, people will look past their vaccination skepticism and put an end to the isolation we have been faced with for the past year.
During the past 12 months, many large social gatherings and events have been cancelled or postponed. Families couldn't watch their children graduate from high school or boot camp, religious events and gatherings have been forced to go virtual, conventions, pageants, sporting events, and concerts or festivals have all been put on pause. The pausing of these events has taken a toll on extroverted brains, which leads to what looks like a cabin-fever depression. Even funeral services have been forced to have restrictions, which obviously doesn't help the mental state of a grieving family. There truly was no need for any of this to happen if our political leaders had reacted more promptly and the general public had adhered to mask waring from the beginning.
During this pandemic schools had to shift to distance learning, which was a brand new experience for teachers and students to get used to. The drastic difference between the distance learning environment and in-person classes showcased how the COVID-19 pandemic has taken a massive toll on students emotionally. Average school work seemed to become more abundant, much more difficult, and overall more stressful. The reasoning behind high attendance rates and lower academic accomplishment is not explicitly clear, but the assumed reasoning identifies that more freedom at home allows students to procrastinate or hit the snooze button one too many times. Being in the comfort of their own homes, allows students to sleep in longer, procrastinate work, and get distracted more often and easily as they are surrounded by all their items. Distance learning doesn't have the same encouragement factors as in-person learning, therefore, students don't have the drive to put in 100% effort. Luckily with vaccines circulating, we are seeing a decline of active cases, and as long as we keep our COVID preventative measures in place, we should also see a return for most primary and secondary students this school year, and hopefully bring some GPAs up. 
Most students, like me, have their fingers crossed in the hopes that soon everything will return to normal, but can it? Speaking personally, I don't know if it will. Will students will be more conscious when sharing a snack? Will students do their signature handshake during passing periods? Will students respect the six foot social distancing mandate? Our prolonged quarantine has turned me into a mild germaphobe. I know how badly I want to return to in-person learning, but will my mind be able to function in our new reality? We'll have to wait and see.
UPDATE 1:
The official Hybrid Learning schedule for Lincoln High School has been released and is shown below:
Last names A-L — Attend Monday and Tuesday on a 7:20am-3:00pm schedule, Distance Learning on Wednesday-Friday also on a 7:20am-3:00pm schedule. Wednesday will now be an early release day, starting at 7:20am and ending at 2:00pm
Last names M-Z — Attend Thursday and Friday on a 7:20am-3:00pm schedule, Distance Learning on Monday-Wednesday also on a 7:20am-3:00pm schedule.  Wednesday, will now be an early release day, starting at 7:20am and ending at 2:00pm
COVID precautions will remain relatively the same by wearing masks, doing self-checks before entering campus and following social distancing procedures. For more in depth instruction, check out our previous article about returning to campus safely here: Preparing for the Trojans to Return – The Lincolnian
UPDATE 2:
Ms. Kelly Dextraze just announced that we have been placed back in the purple tier for the week of the 15th and we will not be returning to school until we keep the county in the red tier for two consecutive weeks.
"As a result, we have now lost the one week of red tier credit we earned last week" -Superintendent Kelly Dextraze
About the Writer
Alana Luman, Editor-In-Chief
Alana Luman is the Editor-in-Chief for The Lincolnian. This is Alana's third year in the journalism program. As of now, Alana serves as the new Editor-in-Chief,...