Trying to get life back to normal
Governor Newsom has a plan to get California re-opened by June 15th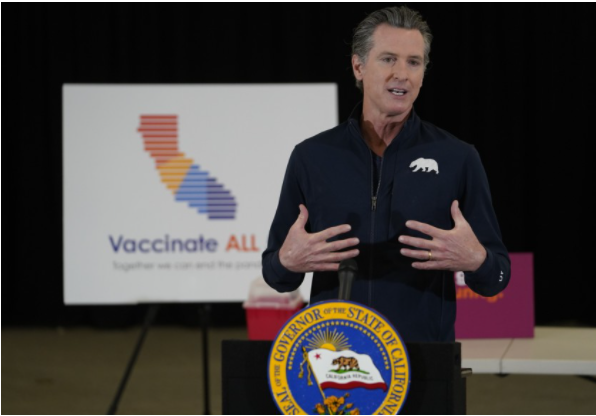 In March of 2020, our world was completely turned upside down as COVID-19 rampaged throughout our state and country. This pandemic shut down schools, churches, sport teams, restaurants and practically every other type of business except grocery stores and hospitals. As the months passed, society has been waiting for life to get back to normal. After waiting patiently for months, Governor Newsom has introduced new guidelines to try and get our state open and running again by June 15 th . At the time of writing this article, 17 million (44%) Californians have received one dose of vaccine, 10 million (26%) Californians are fully vaccinated, and we patiently wait for the final 13 million Californians to schedule their vaccination appointments. "We can confidently say by June 15 that we can start to open up business as usual, subject to ongoing mask-wearing and ongoing vigilance," Newsom said during a press conference at the City College of San Francisco Ocean Campus vaccination site on April 6th. "So this is a big day." But for that reopening plan to happen, he said, the vaccine supply has to be sufficient to accommodate everyone 16 and older who wants one, and hospitalization rates statewide must remain stable and low. Officials, however, did not explain how they would assess those benchmarks or what would constitute a good trajectory. Both Newsom and Health and Human Services Secretary Dr. Mark Ghaly struggled to explain the changes without adding caveats. Under the new plan, businesses will be able to open with "common-sense risk-reduction measures" such as wearing masks and encouraging vaccinations, Ghaly said. Most capacity limits for businesses and recreational activities will be lifted, although larger indoor events, such as conventions, will be allowed only with testing or vaccination verification requirements, he added.
Not only will Newsom have to make sure our state stays on track with vaccinations, but we, as a society, will also have to do our part. Social distancing, wearing masks, and constantly symptom checking are steps we need to make to ensure we are healthy and COVID free. We need to remember to always wear our masks and social distancing when out in public is priority in order to have all of our favorite places open again. The announcement comes as states across the country have lifted health restrictions as more people get vaccinated, despite rising infection rates in some places, new variants and concerns of another surge. California had some of the nation's strictest pandemic rules in the country, becoming the first to institute a statewide stay-at-home order last spring. Newsom's announcement signals a potential end date to more than a year of isolation. While many other states have pushed ahead, California has generally resisted reopening too quickly and, in several instances, has moved to reinstate restrictions to stem rising new cases and hospitalizations. But the pandemic has taken its toll, killing more than 58,000 Californians, while shuttering scores of businesses and forcing millions of students to attend school remotely for much of the year.
In the short term, California's vaccination progress means that counties can more easily shift to less-restrictive tiers, allowing them to increase capacity limits for various activities like indoor dining, shopping, worship services and sporting events. Every county in the Bay Area, except Solano County, has recently moved into the second-least restrictive orange tier. The vaccine milestone also triggers a lower threshold for counties to enter the least-restrictive yellow tier: an adjusted rate of fewer than two new daily cases per 100,000 residents.