It's time to go Greek!
Unique and tasty food await every customer at Go Falafel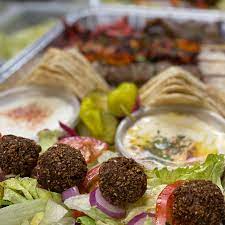 When you're feeling like skipping the dishes for the night and you want an easy, yet delicious bite of food to eat for the family, please give Go Falafel Greek Food a try. Go Falafel is located at 236 West Alpine Avenue at the very beginning of the Miracle Mile. The seasoning and the sauces are what set this culinary experience apart from the competition. The menu features a variety of kebob dishes (steak, chicken, or lamb), gyro wraps, salads and homemade desserts. A popular favorite in my family is the simple, but delicious gyro salad that consists of feta cheese, thinly sliced tomato, onion, cucumber, crunchy cabbage, turnips, parsley, bell peppers, olives, tzatziki, and homemade pita bread. When you're craving something sweet for dessert after dinner, the house specialties are Baklava, Kataifi, and cheesecake. Plan on spending no more than $8.00 dollars per person to head home completely full.
Go Falafel is open from 11:00 AM to 3:00 PM and then from 5:00 PM to 8:00 PM Monday through Saturday. To Go orders can be placed by calling (209) 546-7555.