The COVID Vaccine: Do I or Don't I?
High school students are still struggling with the decision on whether or not to be COVID-19 vaccinated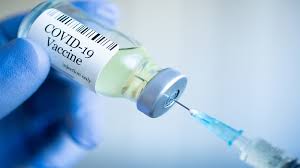 In March of 2021, the Pfizer COVID-19 vaccine was made available to most high school students across the country. Many students flocked to vaccine sites to be the first ones in line. Some high school students made getting vaccinated their first priority while others may havebeen more reserved because of the need for parental consent. This raises the question of whether or not it's warranted for young, healthy, high school students to get vaccinated. Vaccination has been a hot topic within the country and California. Sadly, somehow the welfare of the public's health has become political. People have dug themselves in because of their political beliefs, and since president Joe Biden is a Democrat, battle lines have been drawn between the two political parties.
Teenagers have been told since the beginning of the pandemic that the least vulnerable people, when it comes to catching COVID, are the young and healthy. So a federal and state push to get teenagers vaccinated has now caused some genuine confusion and mixed signals. Why get vaccinated if you are not in the high risk category? The vaccine has proven to be effective at negating the severity of COVID, although the new Delta variant has seen an increase of positive cases in the teenage age group. We are definitely living with the COVID virus on our very own campus, as positive cases force many of my peers to stay home and miss school.
Many doctors and pharmaceutical companies are encouraging the youth to get vaccinated not only as a way to protect themselves, but as a way to protect those you love and care about the most. While teenagers may not be very vulnerable to the virus, getting vaccinated could do wonders to protect those who are extremely vulnerable like the elderly and anyone with a pre- existing condition.
COVID has proven to be a thorn in the side of everyone for the past year and a half now. Getting vaccinated no matter your age or health status is one positive step to negate the spread of this virus and hopefully put an end to this nightmare. Vaccination is not just a way to make sure you are as protected as possible, but it also protects the most vulnerable in our society which for me makes it all worth it.
If our government is so intent on getting teenagers vaccinated, then I highly suggest investing in some form of incentive program like a debit or gift card. Also, there needs to be more statistical vaccination information pushed out to where teenagers are more likely to see it, like on Instagram, Snapchat and Tik Tok. There also needs to be more convenient times and locations throughout Stockton for teenagers to actually receive the vaccine. Yes, our school district is providing vaccines on our campus, but with vaccination clinic times from 1:00 to 5:00 PM my fellow Trojan classmates are in school until 3:00 PM, have transportation issues picking them up after school, or have after school extracurricular activities. Would it be OK to miss class in order to get vaccinated? As a teenager, I know it can be difficult to get us to anything, and that is why my age group needs more information, more tools, and more locations to participate.