Swimming in Stockton
With over three inches of rain in just one storm, the City of Stockton was drowning from the very first big rain storm of the season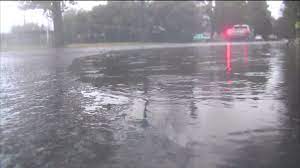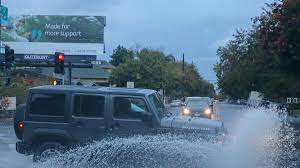 STOCKTON – Normally, when meteorologists make predictions on television the majority of these predictions do not come true. However, on Sunday, October 25, 2021 a historic atmospheric river drenched central and northern California with record-setting rains. In fact, the storm brought over three inches (3.4) of rain in less than 24 hours to Stockton. This caused some major inconveniences around town; such as the flooding of several neighborhoods, the flooding of Highway 5 and Highway 99 on-ramps, and a gigantic puddle at the intersection of Ben Holt and Alexandria.
While rain is usually a good thing, the excessive amount of rain from this storm did cause some problems for Stockton residents. Flooding in the streets caused people's cars to get stuck in the streets. People needing to go to work could not get their cars out of the driveway and if they did, many of the flooded streets had water depths of up to three to four feet. Several Stockton Unified schools closed because of flooding and many school bus routes were cancelled which meant a lot of students had to miss school. Although missing school can be very inconvenient, it is better to be safe than trying to get to school and getting stuck in the road.
At the highest elevations of the northern Sierra Nevada, 41" of snow fell, a crucial addition to water resources in our drought-plagued region. Atmospheric rivers are long, narrow strips of exceptionally moist air, sometimes sourced from the tropics, that can produce excessive amounts of precipitation. This atmospheric river was rated a level 5 out of 5 in the San Francisco Bay area by the Center for Western Weather.