A Court of Thorns and Roses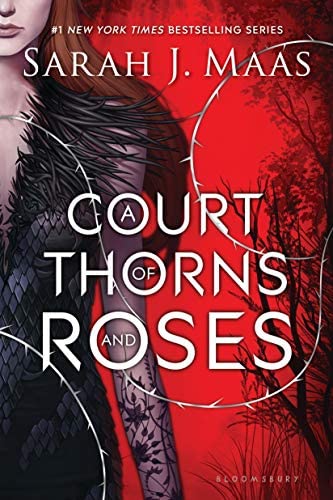 Followed by four other novels, this twisted retell of Beauty and the Beast pulls readers into the story of A Court of Thorns and Roses. Nominated for Best Young Adult Fantasy & Science Fiction (2015) on Goodreads, the first book in Sarah J. Maas's series is an intriguing start to the world of A Court of Thorns and Roses as readers enter the world of fae and beasts.
Known for her epic fantasy novels, Sarah J. Maas had already written several books by the time this book was published. She published her hit series, Throne of Glass in 2012, followed by A Court of Thorns and Roses (2015) and Crescent City (2020). As these books began circulating BookTok circa summer of 2021, the craze escalated as the most recent book in the collection, A Court of Silver Flames was released earlier that year.
With a 4.20 rating on Goodreads, many stated how much this book held up to their high expectations. Popular authors such as Emily Henry (People On Vacation, Beach Read) and Sasha Alsberg (Zenith) both described their love for the book. On Goodreads, Alsberg wrote, "Sarah has done it again! This book was amazing! The romance was borderline new adult which I loved but it was also greatly paced." Each author gave the book five stars, expressing their love towards the series and its creator.
The novel follows Feyre, a mortal huntress who kills to keep her family alive. When she kills a wolf in the woods, she comes to find that the beast she slaughtered was one of the faeries who once enslaved her people. Feyre is dragged to the faeries land across the border, where she finds that the legends she heard growing up were far from true. From fear to lust, Feyre finds her feelings for her captor, Tamlin, quickly transforming in a way that she cannot deny. However, Feyre finds that an illness is quickly spreading throughout the faerie lands, and she is the cure. As she challenges the ever spreading disease, she quickly realizes that there is much more at stake than meets the eye and not everything is as it seems.
This book transports readers to another world, perfectly blending romance with an action packed fantasy realm of faerie lore. Sarah J. Maas is popular for her unforgettable fantasy novels, and this book adds to that statement. The love and lust that bleeds throughout the book is beautifully written into the characters and storyline leaving a lasting impression that has readers begging for more. With a strong and independent female antagonist, it is easy to find yourself falling in love with Maas's characters, as well as writing. Her words transport the audience into a universe of fast-paced adventure and dark, fierce characters. I found A Court of Thorns and Roses to be violently intoxicating, and as the series progresses, the hypnotic and passionate storyline only gets better. This novel is truly a page turner and leaves all readers craving more and more!