Lincoln High's Strategies Department
A deeper dissemination into Special Education
The field of education has developed tremendously over the last century, from the case of Brown v. Board of Education, Title IX, and the latest implementation of technology use in all classrooms.  Over time, disputes and advocacy for the equality of education led to the enactment of numerous policies, paving the way for the basis of the school system today.  In particular, I want to attune to the topic of special education.
Special education is often stigmatized, as there is a common misconception that students with intellectual or physical disabilities receive separate education from non-disabled students.  However, this is not completely true. "Special ED is a spectrum," explains Servina Gibson, a faculty member of the Department of Strategies at LHS. "We have students in all different types of classes". These classes range from college prep to even AP's. In other words, students within this spectrum take general education courses and receive additional support. 
Gibson adds, "It's a large program with different structures within it." These structures vary based on the level of assistance a student needs. At Lincoln, there are several structures, such as the functional skills program that concentrates on developing and improving skills. The adaptive PE class which is  designed to assist students with physical or mobility difficulties to remain active and build their strength.
The label "Strategies Department" is unique to our campus. It was recently changed a few years ago to reduce the stigma surrounding the term "special education" due to the bullying and harassment disabled students had received. "We're not actually called Special ED on campus because our goal is to teach students strategies that they can take with them for the rest of their lives so that they can continue to work through whatever struggles they have".
I learned about some teaching strategies in their programs, such as visual agendas, note-taking tools, and graphic organizers that aid learning.  Visual agendas provide students with an understanding of the lesson plan for the day, preventing any anxiety a student may have about what to do next.  When students have an essay to write, the program simplifies the process by breaking it down into smaller, manageable parts, tackling the requirements one step at a time.  In addition, those who struggle to concentrate or are easily distracted in a classroom setting can take their tests in a separate location with the program. 
Have you ever noticed a group of students with a couple of adults walking around campus occasionally?  I walked by some of these students at school, and some of them greeted me kindly with a gentle "Hi." After this encounter, I discovered they are students at the San Joaquin (SJ) County Program. Although not enrolled at Lincoln, they are part of the San Joaquin County Office of Education (SJCOE) Special Education Program and have more significant needs on the spectrum; some require mobility assistance or struggle to communicate verbally. Our campus is just one of many satellite sites that support the program, offering disabled teenagers the opportunity to be surrounded by a high school community. "Sometimes, they join our adaptive PE class and the Sports Leadership class. They always attend our assemblies. If there's something going on during the school day, they're invited to participate."
If you're interested in working with disabled students, there are numerous paths you can take. Volunteering is a great way to gain experience and start your journey. If you want to continue your education, you can work as a paraprofessional, study liberal arts, or concentrate on Exceptional Children and Youth. There isn't a strict and specific way to go about it, so whatever path works best for you, I advise you to do it!
About the Contributor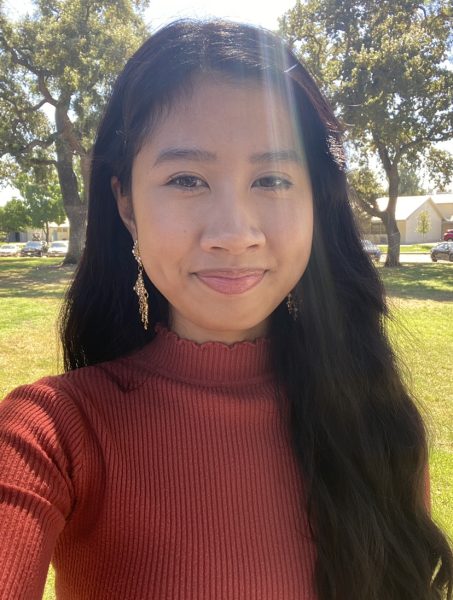 Ariel Tuy, Staff Writer
Ariel Tuy is a senior at Lincoln High and is very involved in her community. She has been a part of The Lincolnian for two years and is the president of...