Who's Hungry?
Lincoln High School's 2021 Homecoming carnival provided students with great food options while clubs had the opportunity to raise funds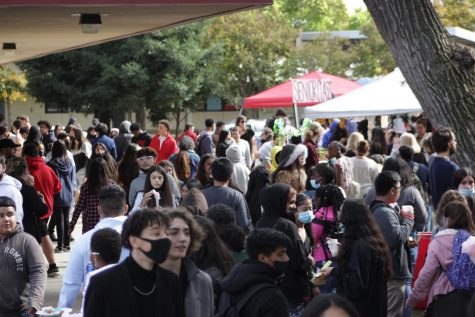 STOCKTON -Lincoln High School hosted an outstanding carnival event on Friday, October 29, 2021. The day marked the end of a very successful Homecoming Week that featured two homecoming rally performances, delicious food at the carnival, and a very exciting football game against St. Mary's later that evening. There was major concern on whether carnival would even happen because of the rain on Thursday. Fortunately, mother nature behaved and the lawns outside the 1400 building and under the oak trees were decorated once again with food booths galore. Each club hand-decorated their respective booth and featured a food item that best represented their club theme. After spending more than $25 dollars on food tickets, here are some of my favorite club vendors.
Lincoln Latin Leadership
Lincoln Latin Leadership had amazing decorations to represent their Hispanic culture. Their theme was The Book of Life which is a movie that honors the Day of the Dead. The club featured a variety of items: conchas, churros, horchata, and Mexican hot chocolate. By the end of the carnival, they had completely sold out. The students running this booth were energetic and positive. I am very proud to be Hispanic and to also be a member of this club.
Fashion Club
The Fashion Club had a simple look for their booth with just a single color and the name of their club. They only sold two items, but they still drew a large crowd. They were selling cookies and lemonade. It sounds simple, but they ended up doing something extra to the lemonade that got you excited to buy it. They put dry ice into the lemonade which created a fun mist.
Hollywood Club
The Hollywood club sold pretty amazing stuff at the carnival. Their booth also had a simple look with a single color and the name of their club. Their menu featured typical food items that you would see at a carnival like popcorn, soda, ice cream, and root beer floats. Most shoppers were there for the root beer floats, and they sold out in the first two hours.
People to People International
People to People featured delicious french fries with a variety of different toppings to choose from like bacon bits, nacho cheese, and a special treat which was the In N Out animal fry sauce. The line was packed with people from start to finish.
Key Club
The Key Club was another very popular club that eventually sold out of the delicious bobas which featured two flavor options of either Jasmine Milk Tea or Bubble Milk Tea from Quickly. Students were lined up and ready to buy their drinks which sold for 5 tickets each ($5).
Poly Club
The Poly Club featured spam musubi on pork buns that included a bottled water or a can of soda. Poly Club was a hit with the students as people were lined up from the get go. The pork buns were prepared by Dynasty Seafood Restaurant in the Lincoln Center while the spam musubi was prepared by a close family caterer. Poly Club was one of the very first clubs to run out of product due to the volume of sales.
Italian Club
The Italian club sold cups of raviolis along with pieces of focaccia bread. The raviolis were delightful because they were soft and not soggy. The dish came with plenty of sauce. The bread was freshly made with a smooth buttery taste. They also featured several San Pellegrino flavors which is an Italian sparkling water.